Sonoma County, California

Chardonnay - Kendall Jackson

California

Sonoma County, California
Pinot Grigio Santa Margherita

Alto Adige, Italy

Sauvignon Blanc - Clifford Bay

Marlborough, New Zealand

Alexander Valley, California
Cabernet Sauvignon - Guenoc

California

Cabernet Sauvignon - J. Lohr 7 Oaks

Paso Robles, California

Cabernet Sauvignon - Louis Martini

Sonoma County, California

Cabernet Sauvignon - St. Francis

Sonoma County, California
Chianti - Banfi Superiore

Tuscany, Italy
Sparkling Wines & Champagnes
JP Chenet - Blanc de Blancs

Brut, France

J.P. Chenet - Sparkling Ros

Moet Chandon Brut Imperial, France

Perrier-Jouet Brut, France
Fresh Sangria - By the Glass
The island's best known cocktail. Vodka, rum, passion fruit syrup, creme de banana. Oj, pineapple and cranberry juice.

White Rum & Drak Rums with fresh orange and pineapple juices and a splash of grenadine.

A Gulf side classic made with Southern Comfort, orange juice, sour mix, lemon lime soda and a splash of grenadine.

White and Coconut Rums, banana liqueur, fresh orange and pineapple juices and a splash of grenadine.
Jumbie Coconut Rum, raspberry liqueur and fresh orange and pineapple juices. A perfect way to relax on a hot day!

White and Dark Rums, triple sec, amaretto, fresh orange and pineapple juices and a splash of grenadine.

Dark Rum, fresh orange and pineapple juices, cream of coconut and a sprinkle of nutmeg.
Cocktails & Coffee Drinks
Vodka, Triple sec, Lime Juice and a Splash of Cranberry.

Deep eddy peach vodka, pineapple juice, ginger beer.

Bacardi limon rum, freshly muddled lime, mint, sugar.
Perfect blend of vodka & Zing Zang bloody Mary mix. Garnished with olives & fresh celery.
Chocolate Syrup, Amaretto, Bailey's and Creme de Cacao.

Brandy, Dark Creme de Cacao, and Whipped Cream.

Irish Whiskey, Bailey's and Creme de Menthe.
Deep eddy cranberry vodka, triple sec, lime juice, a splash of cranberry.

Upside Down Pineapple Martini

Stoli vanilla Vodka, pineapple juice, touch of grenadine.

Cucumber Refresher Martini

Hendricks gin, muddled cucumber, mint, fresh lime juice, a splash of triple sec.
Stoli Blueberry Vodka, Blue Curacao, a splash of lemonade, with a sugar rim.

Theres no better way to build your appetite. Grey Goose Vodka, Olive Juice and a splash of Dry Vermouth
Van Gogh Double Espresso Vodka and Cafe Boheme Coffee Liqueur

Stoli Vodka, Peach Schnapps, Triple sec, Sour Mix, Orange Juice with a touch of Grenadine will hit your tastebuds

Happy Hour
Drink Special's
50% off select drinks
Monday thru Friday 4-7pm
at the bar's only.
Budweiser, Bud Light, Miller, Miller Lite, Coors Light
Chardonnay, Pinot Grigio, Merlot, White Zinfandel, Cabernet
House Margarita or Bloody Mary

Sea Breeze or Bay Breeze

4.00

Vodka, Gin, Rum, Bourbon, Whiskey and Scotch

4.00

Absolut, Smirnoff and Stoli Flavors, Bacardi, Captain Morgan, Malibu, Beefeater, Jack Daniels, Jim Beam, Seagram's VO, Seagram's 7 and Dewar's
Martinis, mojitos, flavored margaritas or frozen drinks are regular bar price.
Happy Hour Small plates at the Bars only.
Two (2) Blue Point Oysters

on the half shell.

Crispy Veggie Spring Rolls

Served with sweet Chili sauce.

Soy beans in the pod with garlic and chili sauce.

Grilled Cod in a soft flour tortilla, tomatoes, cheddar jack cheese, chipotle sauce and salsa.
With sharp cheddar cheese.

Jamaican Jerk Chicken Wings

Marinated in jerk spices, oven roasted.

Flour tortilla, tomatoes, cheddar cheese sour cream and salsa served with fresh vegetable medley.
7″ Classic Pepperoni Pizza

7" personal pizza with pepperoni.

Wakami, Soy sauce, Wasabi, pickled ginger.
Romaine Lettuce, tomatoes, onions, peppers, olives, feta cheese, red wine vinegarette.

Prince Edward Island mussels sautéed with garlic, white wine and fine hers in cream or marinara sauce.
Garlic, tomato and Pernod with crusted bread.

1/4 LB Peel and Eat Shrimp

Chilled Old Bay spiced shrimp in the shell.
Subscribe to Aruba Beach Cafe for the latest information on seasonal dishes, new wines, special events, and more.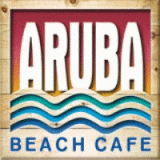 Open 7 days a week!
Mon – Tues: 11 am – 1 am
Wed – Sat: 11 am – 2 am
Sunday: 9 am – 1 am

ARUBA BEACH CAFE
1 Commercial Blvd.
Lauderdale-by-the-Sea FL 33308
(T) 954-776-0001