Caribbean Conch Chowder

8

Spicy tomato base with conch and vegetables.

Shrimp, calamari, scallops, mussels, fish and fresh spinach in a tomato fennel broth.

Grilled Jamaican Jerk Wings

12

Marinated in jerk spices, oven roasted and finished on the chargrill.

Crispy Pork Pot Stickers

12

with ponzu sauce.

warm tortilla chips and salsa.
On top of a bed of tropical vegetables, with red pepper beurre blanc.

Mussels sautéed with garlic, white wine and fine herbs in cream or marinara sauce. Add a bed of linguine. 5
Subscribe to Aruba Beach Cafe for the latest information on seasonal dishes, new wines, special events, and more.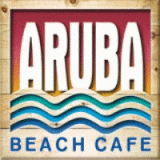 Open 7 days a week!
Mon – Tues: 11 am – 1 am
Wed – Sat: 11 am – 2 am
Sunday: 10 am – 1 am

ARUBA BEACH CAFE
1 Commercial Blvd.
Lauderdale-by-the-Sea FL 33308
(T) 954-776-0001